Our Story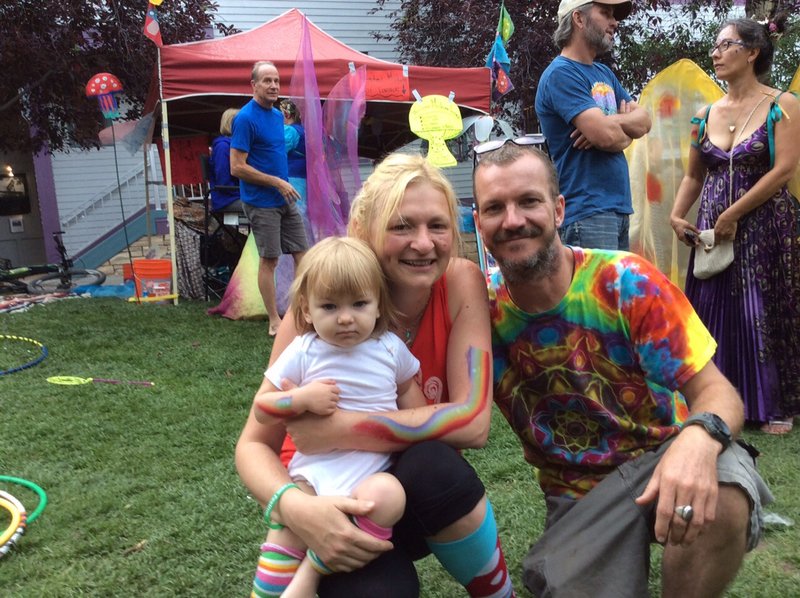 Mushroom Mountain first began in 1996, as a concept for a farm of the future. It wasn't until 2005 when Tradd Cotter and Olga Katic met and began to develop the beginnings of what would become the coolest, privately owned mushroom research facilities. From humble beginnings, housing their laboratory in their two bedroom apartment closet in Boynton Beach, Florida, Olga and Tradd moved their operation to the Upstate South Carolina to begin the expansion that would now become a world class laboratory and research facility that occupies over 50,000 square feet of available space under roof for cultivation, mycoremediation, and medicinal research projects. The laboratory has been constructed to EPA and FDA standards and houses more than 200 species of fungi, most of them native isolates from the Eastern United States.

The farm is becoming an ecotourism hotspot for everyone interested in learning about the amazing world of fungi, and is home to the best mushroom trail on the planet, with plans to dedicate outdoor space for fruiting displays of mushrooms and other fungi organized by genera and specific groups for visitors to examine, photograph, study, and admire.


Mushroom Mountain is a company that focuses on the needs of the planet, developing food and systems for filtering water, creating prototypes for novel antibiotic discovery, isolating target specific myco-pesticides to replace chemical pesticides for problematic insects, and many other projects that use fungi to harmonize our coexistence with nature.
Organic Mushroom Farming and Mycoremediation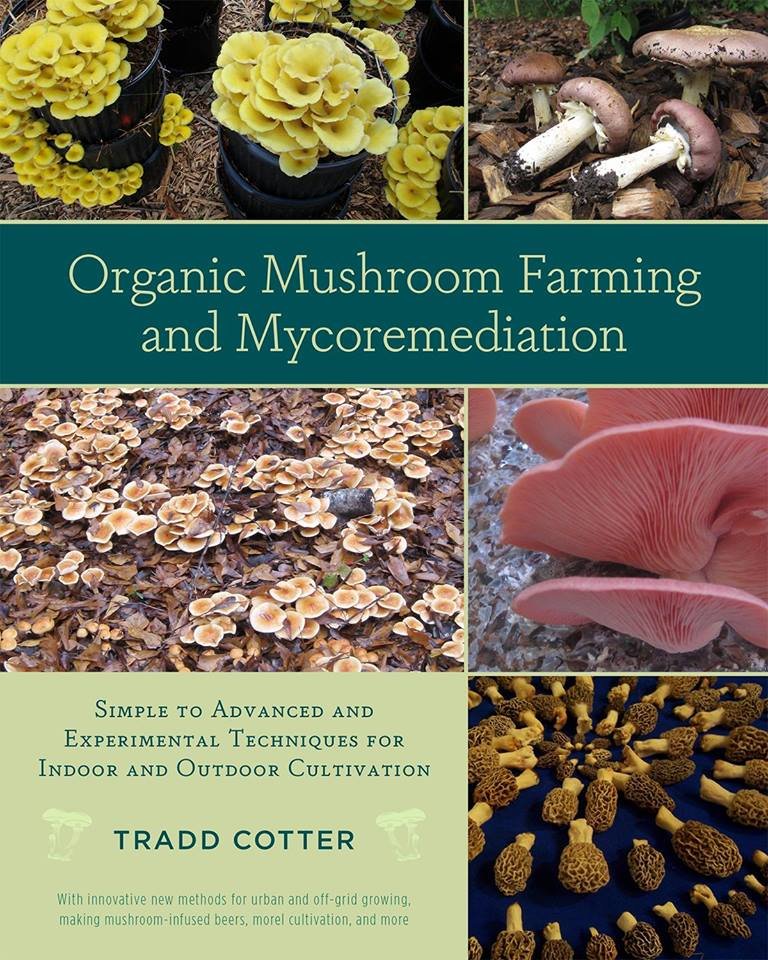 With innovative new methods for urban and off-grid growing, making mushroom-infused beers, morel cultivation, and more...

What would it take to grow mushrooms in space? How can mushroom cultivation help us manage, or at least make use of, invasive species such as kudzu and water hyacinth and thereby reduce dependence on herbicides? Is it possible to develop a low-cost and easy-to-implement mushroom-growing kit that would provide high-quality edible protein and bioremediation in the wake of a natural disaster? How can we advance our understanding of morel cultivation so that growers stand a better chance of success?
For more than twenty years, mycologist Tradd Cotter has been pondering these questions and conducting trials in search of the answers. In Organic Mushroom Farming and Mycoremediation, Cotter offers readers an in-depth exploration of best organic mushroom cultivation practices, shares the results of his groundbreaking research, and offers creative ways to apply cultivation skills—whether the goal is to help a community clean up industrial pollution or simply to settle down at the end of the day with a cold Reishi-infused homebrew ale.
"Finally, an accessible resource covering a wide variety of mushroom-cultivation approaches. Tradd Cotter's book fills an enormous need—I've been wishing for a resource like this for a long time. This is the kind of book I'll keep nearby and will turn to often over the years. Any farmer or gardener who wishes to garner food or medicine value from wood needs to understand and cultivate mushrooms. And this is the best all-around manual I've seen."

—Ben Falk, author of The Resilient Farm and Homestead
"Mushroom cultivation should be playing a much bigger role in our gardens and farms. Tradd Cotter's Organic Mushroom Farming and Mycoremediation provides low-cost, easily accessible techniques for growing mushrooms indoors and outdoors, from home to commercial scale."

—Eric Toensmeier, author of Paradise Lot and Perennial Vegetables
The book guides readers through both indoor and outdoor cultivation. Covered skills include:

Integrating wood-chip beds spawned with king stropharia into your garden;
Building a "trenched raft" of hardwood logs plugged with shiitake spawn; and,
Producing oysters indoors on spent coffee grounds in a 4-by-4 space or on pasteurized sawdust in vertical plastic column
For those who aspire to the self-sufficiency gained by generating and expanding spawn rather than purchasing it, Cotter covers lab techniques, including low-cost alternatives that make use of existing infrastructure and materials.
"Tradd Cotter has written a clear, comprehensive guide that is a gift to amateur as well as professional mushroom growers. The pages are enlivened by Cotter's enthusiasm for the many possibilities that fungi offer, and his obvious familiarity with growing these marvelous creatures—not just theoretical knowledge—makes the book particularly valuable. This book opens the doors wide to a diverse and fascinating fungal world."

—Toby Hemenway, author of Gaia's Garden: A Guide to Home-Scale Permaculture
"Organic Mushroom Farming and Mycoremediation is a guide and inspiration for new and experienced mushroom cultivators alike. Tradd Cotter has done a great job of combining the complexity of mushroom cultivation with the intuitive simplicity of 'small steps.' Highly recommended for fungophiles as a great read and reference!"
—Jim Gibson, past president, Colorado Mycological Society
"Tradd Cotter has done a wonderful job sharing his practical experience in a well-organized way with illustrations that clearly underline the topics. Organic Mushroom Farming and Mycoremediation is an invaluable resource for teaching students about mushroom cultivation."
—Peter Oei, author of Mushroom Cultivation, director of horticulture innovation at InnovatieNetwerk, Dutch Ministry of Economic Affairs, and founder of MeattheMushroom.nl and spore.nl.
Cotter also provides readers with insight into his groundbreaking research cultivating morels both indoors and out, "training" mycelium to respond to specific contaminants, and perpetuating spawn on cardboard without the use of electricity. Readers will discover information on making tinctures, powders, and mushroom-infused honey; making an antibacterial mushroom cutting board; and growing mushrooms on your old denim jeans.
"This book is much more than a cultivation guide. It is about healing the people and the planet, one mushroom and one cultivator at a time, reversing destructive cycles into creative forces," writes Cotter in the introduction. "If we think with an opportunistic yet minimalistic approach, much like a mushroom, taking what it needs to survive and then returning resources to its ecosystem so they can be used by others, the future looks like somewhere I want to be."
"This comprehensive introduction to growing and utilizing fungi has something for all mushroom-inclined readers, be they individuals curious about growing edible fungi in their backyards or basements, prospective mushroom farmers setting up large growing systems, educators from kindergarten to college levels, or innovators experimenting with eco-friendly materials. In addition to providing step-by-step directions for growing mushrooms, the book foodies, amateur scientists, and activists with esoteric and advanced applications for them, such as mushroom-infused beers; "mushroom modules" that can be used for food, water filtration, or insect control in disaster relief; and mushrooms that can be "trained" to break down specific contaminants. Both practical and passionate, Cotter offers extensive and detailed information about mushroom biology, propagation, and remediation for novices. This refreshing take goes beyond typical how-tos, which only provide rote directions and absolute answers. He has equal interest in encouraging budding mycologists, mushroom growers, and mycoremediators to observe, experiment, and add to the knowledge of this mysterious burgeoning field. (Sept.) "


—Publishers Weekly - see review here
Geared toward readers who want to grow mushrooms without the use of pesticides, Cotter takes "organic" one step further by introducing an entirely new way of thinking—one that looks at the potential to grow mushrooms on just about anything, just about anywhere, and by anyone.
Mushroom Mountain in the News
Interviews

Articles

Make way for Foraged Wild Mushrooms - Free Times

Mushroom business built from ground up
Mushroom expert Tradd Cotter transformed his hobby into a business where he grows mushrooms for sale and researches fungi for their potential uses in medical applications, pollution cleanup and more. - GREENVILLE NEWS


Wild Mushrooms - What to Eat and What to Avoid - MNN - by Tom Oder

A Re-Cap: Telluride's 32nd Mushroom Festival a.k.a. SHROOMFEST - Female and Fungi, A radical exploration between the cross-sections

Mushrooms, Mycorhizzae, and Soil Restoration - Another reason to put the 2014 Conference on your calendar now
by Mark Schonbeck

How I came to witness the amazing pink mushroom - by GREEN, preparing for the post-apocalypse

Telluride Mushroom Festival 2013 Breaks New Ground

Tradd Cotter returns to Mushfest, Telluride - Article and Podcast by Susan Viebrock

Telluride Mushroom Festival - Mushrooms as Medicine

Telluride Mushroom Festival Releases a Myco-Medicinal Beer

Backyard Adventures in Mycelium - Tradd Cotter for CFSA

Tio in the Road - Visiting Mushroom Mountain - Clint Viebrock for Telluride inside and Out

Mushroom Festival Mushroom Beer - Telluride Daily Planet

Telluride Mushroom Festival Cook Off - Telluride Inside and Out

Fantastic Fungi - By Katie Klingsporn, Telluride, CO

A different kind of Startup Madness

Mushrooms For Everyone
by: DanielleMoore

How to Grow King Stropharia Mushrooms pt. II: Checking for Mycelium - treehugger.com

How to innoculate your compost with blewit mushrooms - treehugger.com

Clemson Student Entrepreneur
of the Year 2011

Tradd Cotter wins prestigious Clemson University Student Entrepreneur of the Year award

Tradd Cotter, a Junior in Microbiology, Receives Prestigious EPA "GRO Fellowship"

Anderson Independent Mail January 2011, Liberty couple work to teach others about the benefits of mushrooms

Edible Upcountry, Winter 2010 - Into the Woods: A Forager's Feast

TAKOMA HORTICULTURAL CLUB NEWS - November, 2010 Edition - Hungry Fungus Will Eat Your Old Jeans

Low Country Life, Oct 2, 2009 - The Mushroom Guru

The Post & Courier (Faith and Values), Dec 7, 2008 - Trading Eggs for Mushrooms - LINK COMING SOON


The Easley Progress - The Pickens Sentinel, Oct 1, 2008 - Mushroom Mania - Liberty Man says they can kill PCBs - LINK COMING SOOM


Abbey Industry Mushrooms - The Post and Courier - LINK COMING SOON


Blogs

Video
Sign Up for Newsletter