A Great Tasting and Prized Edible
Paddy straw mushroom is a native species to East Asia, and it is very popular in Asian cuisine. It is a truly a tropical mushroom, and perfect for intense summer heat. You can grow it seasonally if you have a few weeks or months when nothing else will grow!  These mushrooms fruit only above 80F and actually prefers 90+F, this protein rich species can be grown on many other slightly composted, dried vegetable wastes.
Paddy Straw has wispy mycelium that is very weak compared to other species. However, this mushroom is very fast to fruit. It can take as little as 1 week after planting.
This mushroom fruits quickly, typically in 5-7 days from spawning! The mushrooms form in eggs so they should be grown on a plastic barrier or in containers to avoid confusing with poisonous or deadly amanitas that associate with tree roots.
A great tasting and prized edible, it is rich, meaty, savory and silky. Dried Paddy straw can achieve protein contents of 38-42%, dry weight!
Cultivating Paddy Straw
What You Will Need
Spawn
Plastic tarp
50 lb bag of cotton seed hulls
1 square wheat bale of wheat straw, shredded is best
5 lb wheat bran – hydrated
Hydrated lime
Method
Step 1. Prepare your media (cotton and wheat straw) by mixing each separately with water, and soaking it for 3 days allowing it to briefly ferment. Add 1 tablespoon of hydrated lime per gallon of water used to soak in baby pool.
Step 2. Remove the media from the water and supplement with wheat bran.
Step 3. Solar pasteurize media separately in the sun by wrapping it in plastic for 3 days. You can also steam the substrate for 2 hours at 140-160F if you are not able to wait 3 days.
Step 4. Lay the media out in stripes alternating between the wheat straw and cotton waste on the tarp.
Step 6. Add spawn on top of the cotton rows.
Step 7. Cover the media loosely with another tarp out of direct sunlight. If you are in a cooler climate covering in the sunny area is acceptable.
Try to keep the temperatures of the inner media as close to 100F and not exceed 120F for too long.
Step 8. After 2 days, remove the cover and inspect the area where your spawn was placed. Look for a fine web like growth spreading from where you added spawn. Increase the air flow without allowing the substrate to dry out.
Step 9. Lift the plastic to create a humidity tent, a small hoop house like structure. Can be done
Fruiting
In as little as 4-7 days, but typically in two weeks, paddy straw "eggs" will form on the surface, both in singles, but commonly in clusters, enlarging and and quickly maturing in 2-3 days.
TIP: Paddy straw has overwintered in our spent oyster mushroom compost which stays warm in South Carolina.
Harvesting and Storing
Harvest the fruiting bodies while they are still in an egg stage for best storage. These mushrooms will keep in a paper bag in the fridge for a few days. You can also dry them out, and store them in an airtight container until ready to cook with.
The Next Flush
After the harvest, the bed will rest, and then fruit once more. Then the substrate is ready for cultivating another species called Almond Portabella (blog coming soon). You can also compost this media with worms for a beautiful and rich soil for your plants.
Experimenting With Other Substrates
Experiment with other cellulose and nitrogen rich substrate like spent cotton waste, sugar cane waste, dried hyacinth, hemp fiber, beet pulp, and others.
Paddy Straw Cashew Lettuce Wraps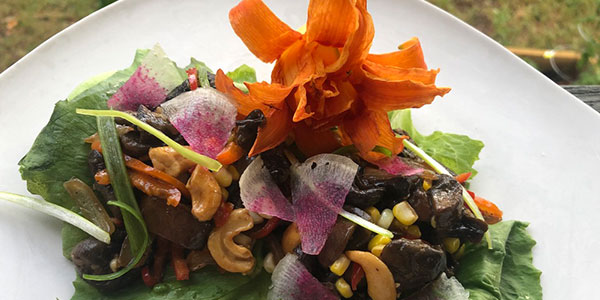 Ingredients
1lb paddy straw mushrooms-cleaned and sliced
16 lettuce leaves – I used green leaf lettuce out of my garden but butter or bibb is great too
2 tbsp sesame oil
I large onion sliced
2 bell peppers of different colors – sliced thinly save half to mix in after cooking
2 ears corn – cut off cob – blanched
¼ cup hoisin sauce
3 cloves garlic – minced
2 tbsp soy sauce
1 tbsp rice wine vinegar
A dash of Asian chile garlic paste or sauce – optional, it's spicy
2 tsp pickled ginger- minced
½ cup cashew halves
Garnishes – Green onions, watermelon radishes, sesame seeds
Method
Rinse whole lettuce leaves and pat dry, being careful not tear them. Set aside.
Heat a large skillet over medium-high heat. Cook and stir mushrooms season with salt and pepper cook for about 7 minutes or until well cooked. Drain and discard grease, transfer mushrooms to a bowl. Cook and stir onion in the same skillet used for mushrooms until slightly tender, 5 minutes. Stir hoisin sauce, garlic, soy sauce, vinegar, ginger, and chile pepper sauce into onions. Add half of your peppers, corn and return your mushrooms back into pan; cook and stir until the onions just begin to wilt and your sauce thickens a little, about 4 minutes. Stir in cashews.
Arrange lettuce leaves around the outer edge of a large serving platter and spoon mixture in the center of each leaf and garnish with scallions, radish and sesame seeds.
Bon Apetit!