Mushroom Mountain Instructors
Tradd Cotter (program creator)
Tradd Cotter is a microbiologist, professional mycologist, and organic gardener, who has been tissue culturing, collecting native fungi in the Southeast, and cultivating both commercially and experimentally for more than twenty-two years. In 1996 he founded Mushroom Mountain, which he owns and operates with his wife, Olga, to explore applications for mushrooms in various industries and currently maintains over 200 species of fungi for food production, mycoremediation of environmental pollutants, and natural alternatives to chemical pesticides. His primary interest is in low-tech and no- tech cultivation strategies so that anyone can grow mushrooms on just about anything, anywhere in the world. Mushroom Mountain is currently expanding to 42,000 square feet of laboratory and research space near Greenville, South Carolina, to accommodate commercial production, as well as mycoremediation projects.
Adam Fisher
Adam Fisher is native to North Carolina and has loved nature his whole life. This love led him into permaculture and biodynamic agriculture with a mission of healing the Earth. Out of this mission mushrooms have come to the forefront. He has been cultivating and foraging mushrooms for 10 years. He is certified to harvest wild mushrooms for resale in VA, NC, SC and GA. It is with deep gratitude that he is joining Mushroom Mountain to teach the wild harvesting course. He is primarily focused on increasing the availability of safely harvested wild mushrooms as well as raising awareness about perennial foods. In addition to mushrooms Adam enjoys keeping bees, fermenting food with a focus on perennial crops, alternative native foods and spices.
Brian Hale
Brian has studied and practiced wilderness survival for more than thirty years. He leads commissioned hikes and events on private land teaching folks how to utilize many of our natural resources. These events cover game sign interpretation & tracking, orienteering, making shelter, clothing, tools, fire and identifying a number of edible plants and mushrooms. He owns and operates Yahoola Valley Mushrooms in Dahlonega, Georgia through which he provides wild foraged and cultivated mushrooms to farmers markets and fine dining restaurants. Brian is the founder and moderator of the Facebook group "Mushroom Hunters of North Georgia". Brian spends most of his free time in the woods foraging, observing wildlife and expanding his knowledge of the land and the treasures it has to offer.
Anne-Marie Bilella
Anne-Marie is the Farmer, the Baker and the Medicine-Maker at Bella Vista Farm in GA. She is skilled in herbal medicine, wild weeds, mushrooms and natural products made from herbs. Anne-Marie was self-taught in her herbal studies until 2014 when she completed a 10 month hands-on intensive herbal course with Patricia Kyritsi Howell of BotanoLogos School of Herbal Studies. She is certified as a Wild Mushroom Forager and Seller as well as an instructor for the Wild Mushroom Safety Course with Mushroom Mountain.
Currently, Anne-Marie creates her own herbal products with her Forager Chick line and teaches homesteaders about herbal medicine, medicinal mushrooms and wild plant identification. She is a homesteader, author and writer for her own blog and has written articles for other blogs, Aroma Culture Magazine and for Mother Earth News – Herbal Living blog.
Stesha Warren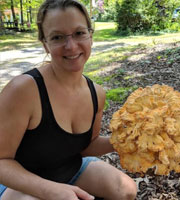 Stesha fell in love with the forest as a child growing up the North Carolina mountains. Raised with a horticultural background, she is a herbalist with a focus on women's health. Her love of the forest, fungi, simplicity and nutrition has led to over 20 years of foraging experience. She and her husband own and operate Eliana's Garden LLC in Stoneville, North Carolina. Her business is primarily focused on medicinal and culinary forest crops with an emphasis on species awareness and preservation of native botanicals. As a licensed nationwide nursery they offer these special native and permaculture plants for sale and preservation education.
She cultivates a selection of outdoor mushrooms, fungi value added products, and in the summer of 2019 will begin indoor mushroom cultivation working closely with a university for research. Stesha has a passion for fungi, sustainable agriculture and community. She hopes to educate her community on the value of plants and fungi around them. With a Bachelor of Science in Agricultural Education and a love for the outdoors she develops and teaches classes on foraging at Rockingham Community College, classes on mushroom production, foraging, forest farming, and homesteading skills at their farm, and is proud to be an approved instructor for Mushroom Mountain teaching wild mushroom safety and identification classes. In her spare time she enjoys spending time in the forest with her husband and two young children as well creating wild crafted culinary delights.
John Michelotti
John Michelotti is the founder of Catskill Fungi which empowers people with fungi through outdoor educational classes, cultivation courses, mushroom art, and mushroom health extracts. John is a former President of the Mid-Hudson Mycological Association (MHMA) where he co-founded the Catskill Region Mycoflora Project. He was chosen by the Catskill Center as a "Steward of the Catskills" for his contribution to the environment. His goal is to educate and inspire people to pair with fungi to improve health, communities, and the environment.
ID Class Daily Schedule
Day 1:
9:00am
Arrive and Registration
9:15am
Permit Overview and Guideline, Exam Description
Proper Handling, Storage, Packaging, Safety Regulations Ethics and Protecting Forests, Picking for Resale, State by State Guidelines, Deadly and Poisonous Toxins and Treatments
10:30am
Ecology Walk and Collections
 
 
Noon
Lunch (not included in price, please bring your own), Photos for IDs
1:00pm
Gallery of Tested Species and Lookalikes. Dissections and Specimen Discussions, Fresh and Dried
3:00-4:00pm
Dissections and Specimen Discussions, Fresh and Dried
4:00-5:00pm
Review for Exam 1
| | |
| --- | --- |
| 9:00am | Arrive and Exam 1 |
| 10:00am | Gallery of Permitted Mushrooms Species and Features |
| 11:00am-1:00 pm | Lunch Break & Review for Exam on your own, looping study slides |
| 1:00-5:00pm | Final Exam |