Mushroom Mountain Instructors
Anne-Marie Bilella
Anne-Marie is the Farmer, the Baker and the Medicine-Maker at Bella Vista Farm in GA. She is skilled in herbal medicine, wild weeds, mushrooms and natural products made from herbs. Anne-Marie was self-taught in her herbal studies until 2014 when she completed a 10 month hands-on intensive herbal course with Patricia Kyritsi Howell of BotanoLogos School of Herbal Studies. She is certified as a Wild Mushroom Forager and Seller as well as an instructor for the Wild Mushroom Safety Course with Mushroom Mountain.
Currently, Anne-Marie creates her own herbal products with her Forager Chick line and teaches homesteaders about herbal medicine, medicinal mushrooms and wild plant identification. She is a homesteader, author and writer for her own blog and has written articles for other blogs, Aroma Culture Magazine and for Mother Earth News – Herbal Living blog.
What students are saying about Anne-Marie's class :
"I had a really great experience during the training. All levels of knowledge and experience were encouraged to share. It was inspiring to be around so many mushroom enthusiasts and to see the different types of mushrooms available in different areas of the East coast."
"Anne-Marie is a great instructor! She is a great asset to your team!"
"Great class and instructor, highly recommended!"
Brian Hale
Brian has studied and practiced wilderness survival for more than thirty years. He leads commissioned hikes and events on private land teaching folks how to utilize many of our natural resources. These events cover game sign interpretation & tracking, orienteering, making shelter, clothing, tools, fire and identifying a number of edible plants and mushrooms. He owns and operates Yahoola Valley Mushrooms in Dahlonega, Georgia through which he provides wild foraged and cultivated mushrooms to farmers markets and fine dining restaurants. Brian is the founder and moderator of the Facebook group "Mushroom Hunters of North Georgia". Brian spends most of his free time in the woods foraging, observing wildlife and expanding his knowledge of the land and the treasures it has to offer.
Dr. Chris Neefus
The course will be taught by Chris Neefus. He has a PhD in Botany and is a Professor of Biology at the University of New Hampshire where teaches several courses including a full semester field and lab course on New England Mushrooms that covers mushroom ecology, taxonomy, identification, cultivation, and cooking. He is also a longtime member of the Boston Mycological Club where he has led numerous mushroom walks and has served on the club's ID and Executive Committees.
Chris recently moved to Sandwich, New Hampshire. In his spare time, he is an avid forager and grows a variety of mushrooms including shiitakes, oysters, lion's manes, and nameko.
Kenny Rupert
Kenny Rupert has been building his mycological expertise for over 23 years, studying the nuances of fungi identification while keeping up with the ever-changing taxonomy. He has held positions as the business manager and wild edibles teacher for No Taste Like Home, teacher for Mushroom Mountain's Wild Mushroom Certification class, and local mushroom expert and manager for Wild Purveyors. He is the administrator of several identification groups throughout the United States and a few internationally. Today he leads mushroom tours all over North Carolina and across the Southeast.
What students are saying about Kenny's class:
"Just writing to say what a fab class it was! I've had my mushroom knowledge expanded exponentially, I'm feeling inspired to learn more, and that Kenny did great! He was quick to respond with tidbits and knowledge and reached to answer all of our questions, while admitting if he didn't know something. What a rad time!!
Stesha Warren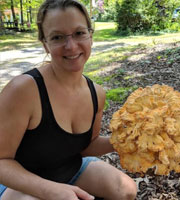 Stesha fell in love with the forest as a child growing up the North Carolina mountains. Raised with a horticultural background, she is a herbalist with a focus on women's health. Her love of the forest, fungi, simplicity and nutrition has led to over 20 years of foraging experience. She and her husband own and operate Eliana's Garden LLC in Stoneville, North Carolina. Her business is primarily focused on medicinal and culinary forest crops with an emphasis on species awareness and preservation of native botanicals. As a licensed nationwide nursery they offer these special native and permaculture plants for sale and preservation education.
She cultivates a selection of outdoor mushrooms, fungi value added products, and in the summer of 2019 will begin indoor mushroom cultivation working closely with a university for research. Stesha has a passion for fungi, sustainable agriculture and community. She hopes to educate her community on the value of plants and fungi around them. With a Bachelor of Science in Agricultural Education and a love for the outdoors she develops and teaches classes on foraging at Rockingham Community College, classes on mushroom production, foraging, forest farming, and homesteading skills at their farm, and is proud to be an approved instructor for Mushroom Mountain teaching wild mushroom safety and identification classes. In her spare time she enjoys spending time in the forest with her husband and two young children as well creating wild crafted culinary delights.
ID Class Daily Schedule
Day 1:
| | |
| --- | --- |
| 9:00am | Arrive and Registration |
| 9:15am | Permit Overview and Guideline, Exam Description Proper Handling, Storage, Packaging, Safety Regulations Ethics and Protecting Forests, Picking for Resale, State by State Guidelines, Deadly and Poisonous Toxins and Treatments |
| 10:30am | Mushroom Hunt and Collections |
| Noon | Lunch (not included in price, please bring your own), Photos for IDs |
| 1:00pm | Gallery of Tested Species and Lookalikes. Dissections and Specimen Discussions, Fresh and Dried |
| 3:00-4:00pm | Dissections and Specimen Discussions, Fresh and Dried |
| 4:00-5:00pm | Review for Exam 1 |
| | |
| --- | --- |
| 9:00am | Arrive and Exam 1 |
| 10:00am | Gallery of Permitted Mushrooms Species and Features |
| 11:00am-1:00 pm | Lunch Break & Review for Exam on your own, looping study slides |
| 1:00-5:00pm | Final Exam |